Play Gears 5 and over 100 PC games*
Buy select AMD Radeon graphics or Ryzen processors and get 3 months of Xbox Game Pass for PC.

Purchase qualifying AMD Radeon™ graphics or Ryzen™ processors and get 3 months of Xbox Game Pass for PC* and play Gears 5, coming Fall 2019! From one of gaming's most acclaimed sagas, Gears is bigger than ever, with five thrilling modes and the deepest campaign yet. With all-out war descending, Kait Diaz breaks away to uncover her connection to the enemy and discovers the true danger to Sera – herself. Get the ultimate gaming experience with the power of Ryzen™ processors and the performance of Radeon™ graphics and take it to the next level when winning is your only option.
Xbox Game Pass for PC
Xbox Game Pass is coming to PC! Starting August 2019, players will have unlimited access to a curated library of over 100 high-quality PC games on Windows 10*, available to download and play at full fidelity. Xbox will continue to add more diverse titles to the library, including new games from Xbox Game Studios and well-known PC game developers and publishers on the day the games are released. Redeem today or wait until Fall 2019 and play Gears 5 plus a horde of high-quality PC games*.
3 Months of Xbox Game Pass for PC with Qualifying
AMD Radeon™ Graphics and Ryzen™ Processors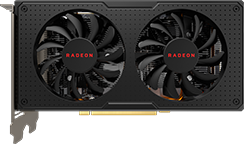 AMD Radeon Graphics
AMD Radeon RX 5700 XT
AMD Radeon RX 5700
AMD Radeon RX 5500 XT
AMD Radeon VII
AMD Radeon RX Vega 64
AMD Radeon RX Vega 56
AMD Radeon RX 590
AMD Radeon RX 580
AMD Radeon RX 570
AMD Radeon RX 560

AMD Ryzen CPU
AMD Ryzen 9 3950X
AMD Ryzen 9 3900X
AMD Ryzen 7 3800X
AMD Ryzen 7 3700X
AMD Ryzen 5 3600X
AMD Ryzen 5 3600
AMD Ryzen 5 3400G
AMD Ryzen 7 2700X
AMD Ryzen 7 2700
AMD Ryzen 5 2600X
AMD Ryzen 5 2600
AMD Ryzen 5 2400G
AMD Radeon™ RX Graphics
The new AMD Radeon™ RX 5700 Series GPUs, powered by the new RDNA architecture, are designed from the ground up for extreme 1440p performance and exceptional power-efficiency for high-fidelity gaming. AMD Radeon™ RX graphics put responsive gameplay and incredible visuals first. Whether you want the unstoppable performance of the Radeon™ VII, RX Vega GPU, to play at HD and beyond with the Radeon™ RX 580 GPU or dominate esports leagues with the Radeon™ RX 570 GPU, Radeon™ RX graphics take advantage of core technologies like GPU multi-threading and is optimized for the latest DirectX®12 titles allowing you to make every hard-fought victory memorable.
AMD Ryzen™ Processors
Forged from the finest silicon, the new 3rd Gen Ryzen™ processors are the most advanced1, 2 desktop processors in the world with 7nm "Zen 2" core, they don't just perform, they are designed to win.
AMD's 2nd Gen AMD Ryzen™ processors take gaming and streaming to new heights with up to 8 cores and 16 threads. The superior multi-threaded performance lets you game hard with features like Precision Boost 2 technology* enabling high clock speeds, fast memory, and low latency to deliver an incredible gaming experience. The 2nd Gen Ryzen™ and 3rd Gen Ryzen™ processors also come paired with AMD Wraith coolers to deliver game-winning performance while keeping your system astonishingly cool & quiet.
CLAIMINSTRUCTIES
Actieperiode: 1 juli 2019 t/m 30 mei 2020, of zolang de voorraad strekt
Claimperiode bij Azerty: 1 juli 2019 t/m 23 juni 2020
Claimperiode bij AMD: 1 juli 2019 t/m 30 juni 2020
Geldig op de hierboven genoemde producten. Let op: 1 vouchercode per klant
STAP 1
Koop gedurende de actieperiode een deelnemend product en ontvang product en factuur.
STAP 2
Vul het formulier in binnen de claimperiode van Azerty en ontvang binnen 5 werkdagen je vouchercode per email.*
STAP 3
Verzilver je vouchercode binnen de claimperiode van AMD via amdrewards.com
CLAIM BIJ AZERTY
CLAIM BIJ AMD
*Heb je na 5 werkdagen nog geen code ontvangen? Controleer dan eerst je spam-map. Staat je code daar ook niet in, laat het ons dan even weten via vouchers@azerty.nl.
Heb je geen Google account of wil je geen Google account? Stuur dan je aanvraag naar vouchers@azerty.nl met als onderwerp: AMD Xbox Game Pass